Countries
See the countries in which ALER operates.

Reasons to be a Member
Representation
& Influence
Market Intelligence
& Business Development
Communication
& Marketing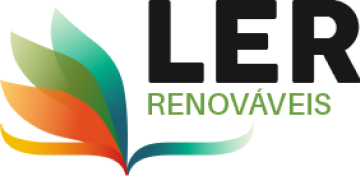 LERenováveis is an online database of simple, universal and free access, that gathers renewable energy publications about Portuguese-speaking countries.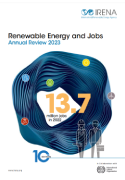 Renewable energy and jobs: Annual review 2023
Author(s): IRENA
Published: September 2023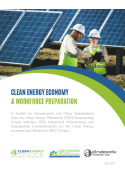 Clean Energy Economy & Workforce Preparation
Author(s): Dr. Debra Rowe, Project Lead, President of U.S. Partnership for Education for Sustainable Development
Published: September 2023
SEG
TER
QUA
QUI
SEX
SAB
DOM
4 of October 2023
Africa Energy Startup series Webinar: Made in Africa, for Africa
Online
Clean Cooking Forum 2022
Accra, Ghana
Global Off-Grid Solar Forum and Expo
Kigali, Rwanda
Finance in Common Summit
Abidjan, Côte d'Ivoire
United Nations Climate Change Conference (COP27)
Sharm el-Sheikh, Egypt
13th Annual Conference of the Association of Energy Regulators of the Portuguese-Speaking Countries
Porto, Portugal
Employment & Entrepreneurship in the DRE Sector – A Gender Perspective
Online
9th Africa Investment Exchange (AIX) Power & Renewables
London, UK
Portugal Renewable Energy Summit 2022
Lisbon, Portugal
Renpower Africa Storage
Johannesburg, South Africa
Renewables for Industry and Agriculture in Mozambique
Maputo, Mozambique | Online
Regulatory Framework for Access to Energy in Off-Grid Areas: A Regional Perspective
Maputo, Online
Regional Conference on the Regulatory Framework for Access to Off-grid Energy
Maputo, Mozambique
Off-Grid Expo and Conference
Augsburg, Germany
1st Annual Southern Africa Clean Energy Summit
Windhoek, Namibia
Business Conference - Renewables in Mozambique 2022
Maputo, Mozambique
África Energy Outlook 2022: Presentation of the Portuguese edition of the International Energy Agency Report
Maputo, Online
The New Generation of Decision Makers IRENA Youth Forum @ the 13th IRENA Assembly
Abu Dhabi, United Arab Emirates
Expo & Forum World Future Energy Summit
Adnec, Abu Dhabi
RENdez-vous Africa: What roles can renewables play in securing Africa's food future?
Online
Africa 2023 Solar
Addis Ababa, Ethiopia
Webinar: Introducing the EIB's Financing Opportunities for Enterprise
Online
Workshop - Photovoltaic Solar Systems with Batteries
Évora, Portugal
Solar Power Africa Conference
Cape Town, South Africa
Energy Efficiency - Key Driver for Energy Transition in São Tomé and Príncipe
Spanish International Renewable Energy Conference (SPIREC 2023)
Madrid, Spain
Webinar: Renewable energy communities – the path to lower energy bills and enhanced resilience
Online
Training Course: Renewables for Journalists
Online
Africa Energy Indaba
Cape Town, South Africa
Large Scale Solar Europe Summit
Lisbon, Portugal
ARE Energy Access Investment Forum (EAIF)
Abidjan, Ivory Coast
Solar home systems: Growth, diversification, and push back
Online
Private Sector Investment in Electricity and Infrastructure Development in Africa – High-Level Public-Private Dialogue by RES4Africa and UNECA
Addis Ababa
Global Landscape of Renewable Energy Finance 2023 Webinar
Online
Lessons learned: Solar Powered Irrigation Systems for Smallholder Farmers in Gaza, Mozambique
Online
Global Hydrogen Conference 2023
Online
4th International Conference on Solar Technologies & Hybrid Mini Grids to improve energy access
Palma de Mallorca, Spain
The Southern Africa Clean Energy Summit
Cape Town, South Africa
IN Conference INEGI 2023 | Energy Transition: Accelerating to Compete?
Port of Leixões, Portugal
5th edition of Unlocking Solar Capital (USC) Africa
Uganda
REN21 - Launch of the Renewables in Energy Supply Module - 2023 Global Status Report
Online
Intersolar Europe: Off-Grid Power Workshop
Munich, Germany
Africa Energy Forum
Nairobi, Kenya
Webinar: The Key Takeaways of Africa Energy Forum
Online
Countries' Week: A country per day
Online
Mainstreaming Gender-Responsiveness
Online
Live Presentation: Open Source Tools for Renewable Energy Businesses
Online
Luanda International Fair
Luanda, Angola
11th Meeting of ECREEE's National Focal Institutions
Niamey, Niger
Mastering Wind Power
Online
Maputo International Fair (FACIM)
Marracuene, Mozambique
Energy Storage and Green Hydrogen Webinar
World Hydrogen & Renewables Iberia
Riu Plaza, Madrid, Spain
Legal Circle | ESG Conference - Trends and challenges in geographical diversity
Maputo, Mozambique
40th European Photovoltaic Solar Energy Conference and Exhibition (EU PVSEC 2023)
CCL Lisbon Congress Centre, Portugal
17th edition of the Microgrid Global Innovation Forum
London, United Kingdom
ENERH2O Energy and Water Innovation& Technology
Porto, Portugal
8th Mozambique Gas & Energy Summit & Exhibition
Maputo, Mozambique
Renewable Energy Forum Africa (REFA)
Nairobi, Kenya
Africa Renewables Investment Forum (ARIF)
Nairobi, Kenya
Sustainable Energy Forum (ESEF 2023)
Cidade da Praia, Cape Verde
International Renewable Energy and Energy Efficiency Fair
Cidade da Praia, Cape Verde
Mozambique-EU Global Gateway Investment Forum
Montebelo Indy Hotel, Maputo, Mozambique
Business Conference - Renewables in Mozambique 2023
Montebelo Indy Hotel, Maputo, Mozambique
Africa Energy Indaba
Cape Town, South Africa